perforated paper, DIN A4
Perforated paper can be used in many cases, in most of them, DIN A4 paper is perforated with dotted or dashed lines to make custom sized non adhesive labels. Our perforated DIN A4 sheets can be manually lettered or printed with laser printers, copiers or inkjet printers. The non-adhesive labels then are separated from the sheet by hand. Here you will find our complete overview of standard formats. The following types of paper are in stock and can be perforated individually according to customer requirements:
perforated office & copier paper DIN A4, white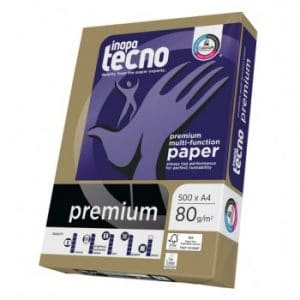 We only use premium paper with FSC certificate (FSC and EMAS certification stand for environmentally friendly and sustainable paper production) to enable multifunctional use in the office. Optimal operating characteristics in printers or copiers are guaranteed.
We perforate papers of the following strengths (grammages):
110g/m² paper inapa superior
120g / m² paper inapa tecno
120g/m² colored paper Clairefontaine Trophee
160g/m2 paper inapa tecno
200g/m² white carton inapa tecno
210g/m² colored carton Clairefontaine Trophee
250g/m² white carton inapa tecno
300g/m² white carton inapa tecno color print
Due to our standard packaging unit of 100 sheets , we can also supply perforated paper at the best prices even to small customers. Many standard formats are already prepared and available directly ex stock. You can choose between superfine micro -perforation or the classic 2:1 perforation. The latter type of perforation is mainly used for particularly thick paper.
colored paper perforated at customers option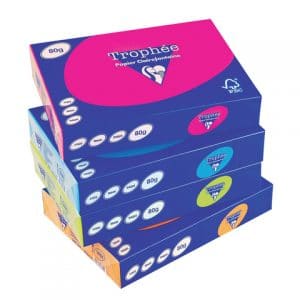 Colored paper , perforated as required by the customer, is available as DIN A4 paper with a grammage of 120g/m² . The Trophée Color Intensive brand stands for the highest standards, smooth operation in all modern systems (copiers, laser printers, inkjet) and first-class printing results. The following types of paper are in stock and can be perforated immediately after ordering:




(Caution: Depending on the monitor calibration, the color representation may vary)
Clairfontaine brand pastel shaded papers
So far we only have small stocks of the grammage 120g/m² for sampling purposes. For larger order quantities, the delivery time for these papers is correspondingly higher. We purchase the quantities needed for your order.
individually perforated paper
Individually perforated paper in DIN A4 format - DIN A4 paper individually perforated. Without exception, our papers are top quality papers, which stand for optimal operating characteristics and printing results. Certified according to FSC Mix Credit GFA-COC-001147, our papers meet the requirements for sustainability and environmentally friendly production. We offer different sizes, colors, grammages and of course individual perforations. All types of paper we offer are unconditionally suitable for the use in inkjet printers, ink printers, inkjets and laser printers.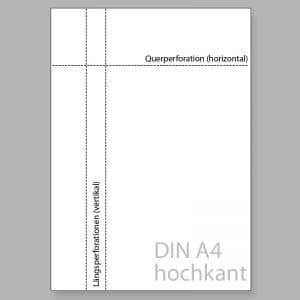 Due to the operating mode of our machines, all perforations run out at the end of the page, which means the perforation lines run across the entire DIN A4 sheet. It is up to you and your imagination for which application you use our perforated DIN A4 sheets - to name a few applications: parcel labels, price labels, tickets, price tags, goods tags or for other applications. In our online shop for individually perforated paper, you have the possibility to define all the characteristics yourself and you can also determine exactly how many perforation lines are needed and where they have to be placed on the sheet. We neither charge toolings costs nor other hidden costs! Our calculation is based on the production cycles of our machines, which means that the fewer perforation lines are required, the easier and more time-saving it is to produce with our machines - of course this has a positive effect on the price. Furthermore we buy the DIN A4 paper directly from the manufacturer and perforate it according to your requirements and specifications. This saves costs, because no distributors are involved.
low prices - also for retail customers
production of individually perforated paper starting from 100 sheets
different types of perforation (micro-perforation, 2:1 perforation)
all available paper colors
Grammages from 120g/m² to 250g/m²
customer support via telephone and email
perforated paper from professionals
Our papers can be reprocessed with a laser jet or inkjet printers, for example as index cards, vouchers, tickets, cloakroom tickets, tickets, beverage or meal tickets, labels for scanner rails or shelf labels - there are manifold applications to use our perforated paper. If you have any questions, just call us - we will be happy help you.
Request paper sample
We would be happy to send you a few sheets of paper as material samples so that you can easily check if the available grammages, colors and types of perforation are suitable for your application. Please let us know your contact details and we will send your samples by post.
Your CuNU | team perforated paper